Giving the Gift of Knowledge
To show our thanks, we are giving away free digital copies of Dave Chase's best-selling books – The CEO's Guide to Restoring the American Dream, The Opioid Crisis Wake-Up Call, and his latest release Re-Localizing Health (PDF format).
Most CEOs, HR leaders, and others have been led to believe that controlling health benefits spending is impossible. The CEO's Guide shows how this just isn't true. It shows how public & private employers and unions across the U.S. are reducing their spending by 20% or more through practical, proven approaches.
Rather, the largest public health crisis in 100 years is a self-inflicted wound driven by a catastrophically dysfunctional health care system. Fortunately, upstream antidotes have been created and proven by forward-looking citizen leaders and employers and it is time to apply these solutions everywhere,
Relocalizing Health begins with an outline for the future of health that is predicated on a health care system that is local, open, and independent. The book details how money better spent on education, primary care, and public health is what we deserve given the talent and treasure invested in health.
Health Rosetta, in partnership with Patients Rising, has compiled a book of case studies that highlight health plan successes in every corner of the country, Learn how these forward-looking employers, unions, associations and public sectors are spending 20-50% less per capita on their second largest budget item: healthcare.
"The button will take you to a page on Dave's website where you can get a digital copy sent to your email address or you can purchase a hard copy from Amazon. Let me know if you are having any trouble getting the digital copy of the book. If you are, I can help by sending you a download link of which ever book you're wanting". – Mark Holland – [email protected]
A free digital copy of Mark Holland's #1 best-selling book – Life and Death Decisions in the C-Suite – for a little late night reading.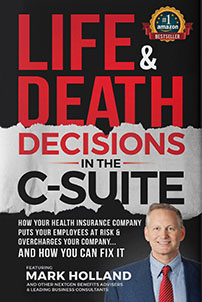 One of our top challenges is healthcare needs and their associated costs. A challenge is acquiring and retaining quality employees due to the costs and their healthcare needs. According to the Kaiser Family Foundation, the average premium for family coverage has increased by 22% over the last five years.
These two things have impacted businesses, their environment, and their culture. With these new challenges, we need new strategies. I have teamed up with a network of leading benefits consultants to identify the truth behind increased healthcare costs.
As a business owner myself and in the business of helping fellow business owners with their healthcare needs, I am seeing this firsthand. In my 25 years of experience, I haven't seen a more crucial time for business owners to utilize new strategies and solutions to provide employees with quality healthcare without costing the company more money.
Saving money on healthcare costs afford opportunities to make your employees feel valued with performance incentives, continued education, or company retreats. I have seen many companies struggling to retain employees and understand that a few things help ensure that, such as salary, benefits, and positive company culture.
I feel it is my calling to empower and equip business Owners and HR with solutions and proven strategies that save on cost and improve the quality of health care for you and your employees.